Isabelle
Class
Novice
Age
25
From
France
Height
5'5"
Weight
110 lbs
Likes
Family
Dislikes
Thunder
Voiced by
Japanese:
Aya Endō
Isabelle
(カレン Karen) is a golfer introduced in
Hot Shots Golf: World Invitational
. She is the first character to be unlocked through Challenge mode in the PlayStation Vita version, and is a default character in the PlayStation 3 version. Isabelle is a Novice character, and has a large impact zone and very good control. However, her spin is weak, power is lackluster, and has impact troubles within the rough and the rain.
Old-School Dame
Half-French, half-Japanese, this polite girl from an old family grew up studying ballet and flower arranging.
She's an incredibly hard worker who never skimps on practise. Nothing beats the feel of a round well played for her.
Hot Shots Golf: World Invitational:
Power: D - 239y
Control: B
Impact: A
Spin: D
Sidespin: D
Good: None
Bad: Rough, Rain
Shot: Straight (Mid)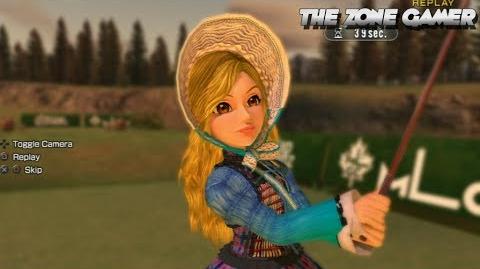 Isabelle is the second character introduced to have a mixed background, the first being Jasmine in Out of Bounds.